Amateur Fight League Presents - Renton Rumble - January 18, 2014
---
Meridian-Kent Kiwanis Presents - Casino Night Fun-raiser - September 28th, 6:00 - 10:30pm
Click here for more information on the event.
---
2nd Annual Flyin'Low MC - October 11 & 12, 2013
Click here for more information on the event.
---
Fort Lewis Sponsors Dinner (April 15, 2013)
Cowgirls Espresso will be attending the Fort Lewis Sponsors Dinner on April 15 helping serve food and drinks!
---
A toast to Cowgirls Espresso (Dec 15, 2012)
Greetings!
Eight years ago today, we started what was to become one of the most popular restaurant guides, DineHere.us! Here at DineHere we have been focused over the past 8 years at creating a simple portal to showcase great restaurants, such as Cowgirls Espresso on 14027 Interurban Ave S.
There is still a lot we can all do better, so here is a tip about an important aspect of DineHere: Reviews. Responding to reviews is a great way to learn from and build goodwill with your most vocal customers. DineHere allows restaurant owners to respond publicly to reviews.
But contacting reviewers should be approached with care; internet messaging is a blunt tool and sometimes good intentions come across badly. Keep these three things in mind as you're crafting a message to your customer:
Your reviewers are your paying customers
1. Your reviewers are human beings with (sometimes unpredictable) feelings and sensitivities
2. Your reviewers are vocal and opinionated (otherwise they would not be writing reviews!)
3. More tips on doing even more with Cowgirls Espresso on DineHere?
Log on to manage CowgirlsEspresso-Interurban.dinehere.us (to access the most recent version of Cowgirls Espresso Menu, Notices, Coupons, Pictures, Hours of Operation, etc .. and of course, Reviews)
A Toast to another 8 years, DineHere.us
---
Cowgirls - Bakini Barista Fridays on The Brew with Mario McLovin (Dec 7, 2012)
Rachel Craig - The Pink Spot, Federal Way
View Article: http://www.thebrew1049.com/pages/Mario.html?article=10625560
---
Cowgirls Espresso on ABC News Nightlight
---
Cowgirls Espresso in the Breastaurant Report (Nov 1, 2012)
Cowgirls Espresso! [come on guys (enough with the "milk" and "cups&" jokes!)]
Read the article: Cowgirls Espresso! (come on guys [enough with the "milk" and "cups&" jokes!)]
---
Cowgirls featured in the Travel Channel's website article
Extreme Fast Food - Waste Not Want Not
Read the article: Extreme Fast Food - Waste Not Want Not
---
Cowgirls Espresso launches new website (Sept 21, 2012)
ATTENTION: ALL employees, friends, family, loyal customers please check out our Months of hard work for our launching tomorrow of the new Cowgirls Espresso WEBSITE woo hoo now all www.cowgirlsespresso.com and www.cowgirlsespressonw.com will be pointed to the same NEW AMAZING site.
Special thanks to:Kevin Hyatt, the folks at efelle media (Fred Lebhart - owner, Marc Takeuchi, Amanda, and all staff) that made this possible, Your work is amazing and thank you for your patients with me!!
---
Maxim Magazine Names Seattle-Based Cowgirls Espresso "Sexiest Coffee Shop" in America in March 2012 Issue- Bikini-Clad Baristas Make Up for Seattle "Foisting" Starbucks on America, Maxim
says-
SEATTLE (Tuesday, March 6, 2012) - Maxim Magazine, known universally as the Ultimate Men's Guide to women, sex, fashion and trends, has named Cowgirls Espresso as the "Sexiest Coffee Shop" in America in its March 2012 issue.
Cowgirls Espresso (www.cowgirlsespresso.com) is the Seattle-based company that owns coffee stands featuring gorgeous, bikini- or lingerie-clad baristas who deliver incredible coffee drinks.
While being in the media is nothing new for Cowgirls Espresso - the company is annually featured in national and international media coverage for its coffee stands featuring sexy lingerie baristas - Maxim Magazine's mention is a true honor, according to founder Lori Bowden.
"Being named by Maxim as the Sexiest Coffee Shop in America is an incredible honor," Bowden said. "We've not only got literally the sexiest women in the state of Washington working for our coffee stands in the Seattle area, but they are tremendous baristas who are admired greatly by their customer base.
"While our sexy brunette barista Bridget Walsh was the one included in Maxim, every girl that works for Cowgirls Espresso is incredibly sexy and provides their own eye-catching appeal to customers throughout each week."
Bowden recently bought back all of her franchised locations and is planning a new overhaul of the company's marketing going forward - with Maxim as the start.
"This is a great launching pad for Cowgirls Espresso going forward as we've had girls asked to pose in multiple men's magazines," Bowden added. "You can bet that you'll see Cowgirls Espresso in many more places in 2012 as we start to blow the doors off the coffee world - one sexy barista at a time!"
About Cowgirls Espresso
Cowgirls Espresso is owned by entrepreneur Lori Bowden, who started the company with one coffee stand in the greater Seattle area. She painted black cow spots on the stand to make it stand out from the other locations in the area and when an employee asked if she could wear a bikini to work one day, the company's niche was born.
Cowgirls Espresso has 17 locations in three states and features beautiful, personable baristas offering a variety of gourmet coffee drinks ranging from lattes and mochas to iced drinks and brewed beverages. Cowgirls Espresso has been regularly showcased by the media for the beautiful women dressed in bikinis, lingerie and other sexy outfits that work as its baristas.
For more information about Cowgirls Espresso, visit www.cowgirlsespresso.com, visit us on Facebook, follow us on Twitter @CowgirlsXpresso or email info@cowgirlsespressonw.com.
Media Contact:
Ed DeMask / DeMask Marketing
630-768-1404, cell br /> 630-389-0572, office
ed@demaskmarketing.com
Twitter @eddemask
Facebook
---
Cowgirls Espresso Featured in Music Video
BAND VERSES THE BIKINI BARISTA!
Seattle band Quickie creates anthem for scantily clad coffee brewers April 9th, 2010--- SEATTLE, Wa --- Seattle pop-punk band Quickie has created an anthem-and video-for Bikini Barista's everywhere!
The song, and subsequent video, has been brewing in the band members' heads for about a year now. Trez, lead singer of the three-man band, explains: "It's been a very hot topic. The song's story line's really funny. It's tongue in cheek."
The band confesses that 2 of the 3 members had never been to any bikini espresso stands, until the day Quickie shot the video for the song. "And of course it was a gray, rainy day. Very Seattle. That's why we need caffeine in the Northwest and maybe that's why the Bikini Baristas are so popular!" Starring in the music video is the original bikini barista stand; Cowgirls Espresso and its beautiful baristas. "They look like they belong in a rock video - and so they are!"
See for yourself. "Bikini Barista" is available as a single and video at the iTunes Store or streaming on YouTube.
About Quickie: Quickie is a 3-piece pop-punk band from Seattle, Washington. Quickie's songs have been featured in the show "Vampire Diaries" on CW and in the movie "Our Lips are Sealed" featuring the Olsen Twins. You might have also heard Quickie's work on ESPN and Fox Sports.
---
Cowgirls in Penthouse Magazine
Here is the article below that is in October's issue of Penthouse Magazine
HOT COFFEE
"Buying a cup of coffee in the morning is a necessity for most of us, but for some java junkies in Washington State, it might be the highlight of their day. That's because the baristas at two local coffee stands deliver piping-hot cups of Joe wearing scanty bikinis. Residents are in an uproar over the uniforms, but the owners of both establishments claim their employees show no more skin than one would see on a public beach. We here at Forum support their entrepreneurial ventures, of course, though we do worry about possible spills."
---
Cowgirls Espresso Softball team wins Championship
The Cowgirls Espresso softball team won the Rainier League championship in a showdown with the league's defending champions. They finished the season with just one loss!
Team Captain Jesse Sahlin stated "Along with our performance, our Cowgirls team name has attracted a lot of attention. I cannot count the number of players that have been jealous of our jerseys or made some funny comments - "You guys can't be beating us, we spend too much money at Cowgirls Espresso".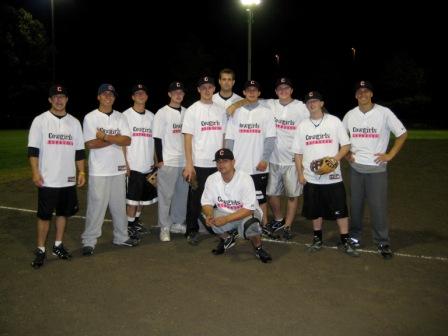 ---
Moo-licious was featured in Highline Times
In August, 2008 an articled was written about Moo-licious in Tukwila. The article was called "Cool themes bring hot business in Tukwila" written by Rachel M. Lusby" follow the link below to see article.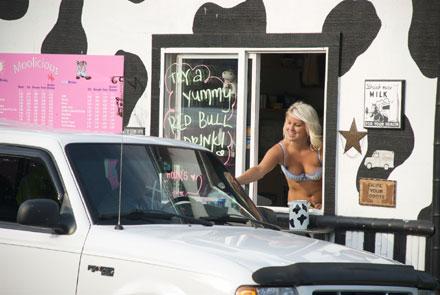 ---
Cowgirls Espresso on CBS News Website
On February 18th following the their morning show coverage of Cowgirls Espresso, CBS posted on their website the following article titled "Shedding Clothes and Selling Coffee" follow the link below to see article.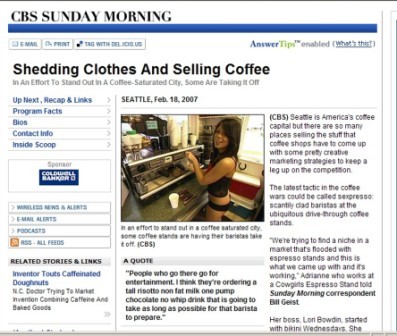 ---
Cowgirls Espresso on KOMO News Website
On January 29th the Associated Press article titled "Coffee Shops show a little skin to Compete" appeared on Seattle's ABC Affiliate KOMO TV website follow the link below to see article.
---
Cowgirls Espresso on Fox News Live
On January 25th Cowgirls Espresso was on Fox News live at 10:30am. Adrianne from our Kent 2 location was interview by Martha MacCallum of Fox News, follow the link below to the interview titled "Hot Cup of Joe" that was also featured on Foxnews.com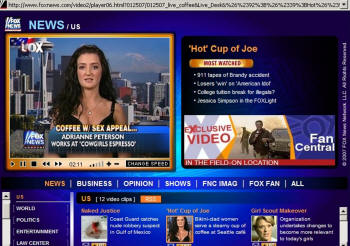 ---
Cowgirls Espresso in the Seattle Times
Read the article by Amy Roe in the January 22nd edition of The Seattle Times named "Some coffee stands get steamier".